Voting is now
closed
. Here are the winners for
Challenge 011: The Exes
.
FIRST PLACE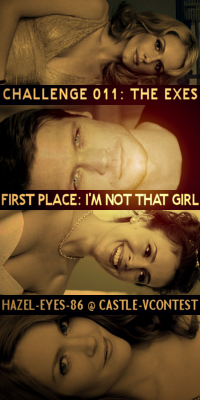 I'm Not That Girl
by
hazel_eyes_86
SECOND PLACE
Meredith Returns
by Mirella
Congratulations to the winners! Let me know when you've snagged your banner.
Don't forget to enter
Challenge 012: Humor/Silly
. We currently have one submission, and entries are due in a few short weeks, so please consider entering!
Also, one of the submissions we got has a broken link.
The video seems to have been removed for copyright. The user posting it does not have an LJ account, so I'm not sure who it was. If you posted the broken link, please re-upload to another site and post the link again. Thanks!